Away from all the topics of corona …. Today in this part in our Online Radio, this paragraph submitted by Sam Broadcaster we will talk about Korean pop or [kpop] music has become tremendously popular, as its fan base has expanded a lot over the past few years, and it's getting more significant day by day.
With so many singers and singers performing different songs and albums to suit all tastes, the charming singer Kim Chungha has been recognized as one of the most famous icons of Korean pop art. She is a singer, songwriter, choreographer, and professional performer. She has captivated the hearts of many around the world to get to know one of the best singers of the current k-pop era!
About her life and the beginning of her career:
Born in Seoul in 1996, Chunghae lived in Dallas, Texas, for eight years before returning to Korea to try to become a singer. She graduated from Sejong University with a major in dance. She performed performance tests in two of the largest entertainment companies in Korea, YG Entertainment and JYP Entertainment, to accept and train in the latter for a reasonable period of time until she eventually left her to join her current company, MNH Entertainment.
She trained for three years before participating in the realistic talent program PRODUCE 101, where 101 trainees from different companies compete to have the chance to win and be among the first 11 to receive the highest voting percentage, to be drawn into a temporary singing group and get a short-term contract. With the mention that the program always has many followers in Korea, so the new squad will inevitably reap a vast audience, and the winning trainees will have an excellent opportunity to establish a career for them even after the separation of their team.
Chungha represented her MNH agency and distinguished her from the first episode of the program, as her appearance on the stage and her talent secured her the fourth place of the vote, to win her home as one of the members of the new group IOI that was detached in March 2016.
As expected, IOI was very successful even for a short period, as their contract unfortunately expired. They separated in January of 2017, and the members each returned to the agency they belong to complete their artistic career, and most of them have joined other singing teams; However, MNH saw a future in Chungha as an independent artist, and it was already debuted a few months later with the Hands-on Me album, and it's lead single, Why Don't You Know. Hence, her distinguished artistic career, crowned with fatigue and hard work, has begun to reach what she is now.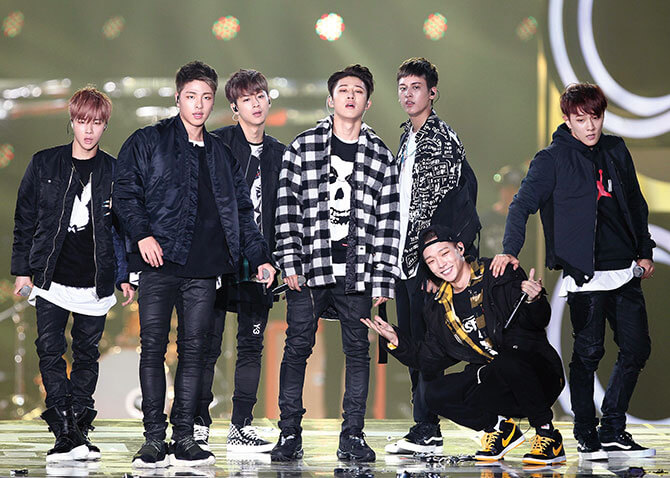 Kim Chungha as a solo singer:
Chungha has worked continuously and throughout the year since her debut as a solo artist, from promoting her albums to participating in many festivals and concerts and collaborating with many artists without forgetting, of course, recording her songs and putting her own ideas in her multiple dances. It has released four mini-albums so far. More than seven songs collaborated with different artists, in addition to 5 OST songs for various Korean dramas.
Chungha's songs drew a lot of love from fans, and her popularity started to increase steadily, at the beginning of her artistic career as a single idol and in 2018 she made her first lyrical comeback after her debut with the song "Roller Coaster" which was very successful as a new artist at the time.
While the year 2019 was the paradigm shift in her career. Chungha opened the year with her song "Gotta Go", which was an impressive success by any measure, and made it the focus of attention of all k-pop fans around the world due to the magnificence of her voice, the difference of dance and her professional performance in all distinctions.
This song got many first successes for Chungtha, she won 7 times the TV music programs that are shown every week, and that was her first song to win at all, as it was one of the most beloved songs in Korea last year, it was played in every restaurant and store, and its dance She became very well known to perform small and large.
"Gotta Go" was nominated for many awards at the end of the year, including Song of the Year three times, and she won the best female dance at the MAMA Awards, the best solo dance show at the MMA (Melon Music Awards), digital bouncing at the ceremony. The GDA (golden disk awards) awards, as well as the production of the year at the Seoul Music Awards (SMA (Seoul Music Awards). It also – according to Billboard – was one of the 100 best K-pop songs released in the past decade.
She also released her fourth album, "Flourishing", in the summer of that year, which is my favorite album personally. It contains five songs, including the main song "snapping," which won 6 times in its turn on weekly music programs, the song "flourishing" written in full English as a way to communicate. With fans around the world, because she wanted the album to be a song that they quickly understood, in addition to the song "Chica," which was a lot of love for being a song that Chungha encouraged women from everywhere and gave them confidence and strength.
And in the year 2020, she released until now a song "Everybody Has," and announced last month the release of her first full album soon.
We also heard her new song, "Stay Tonight," on April 27 of last month, before it was officially released later. MNH has announced that Chungha has signed a contract with the American company ICM partners to start her promotion in America and on a global level. She has confirmed Chungha's focus on singing with the possibility of expanding her career as an actress in the United States of America, and we are waiting for what you offer us for the rest of this year!…
Kim Chungha Chungha's talent for dancing:
Chungha learned to dance for 6-7 years before she became an idol, making her without exception one of the best dancers in the current k-pop generation, and she participated in choreography even before her formal debut at IOI, as she designed dance for the well-known song Bang Bang that she performed The female trainees were among the most noteworthy performances of PRODUCE 101, and after her debut at IOI she designed the dance for their famous song "Whatta Man."
Since her debut as a single idol, Chungha has been involved in the design of all the dances of her current songs and has published various videos with her dance team performing songs we all know as Taki Taki, God is a woman, seven rings.